The GREATEST!  After raising and training many Golden Retrievers, I can say without question that Chris (proprietor) and her business (Under One Woof) are the GREATEST! Outstanding doggy daycare, great play groups, and wonderful puppy kindergarten.  Chris also carries the very best in canine products at incredibly reasonable prices.

If you're looking for the best one-stop grooming, doggy daycare and training, look no further.

  David Mattocks & Molly Vernon, VT

Would you like to add a testimonial? Click on the envelope to send yours today!

The moment I met Chris I felt a strong "positive" energy from her and knew she was the right person to help me train my shepherd/X Cole I obtained from the NHSPCA in the early summer months. Cole previously had a bad experience at another facility and was very nervous. She took the time to talk to him in soothing tones and pet him to make him feel at ease. Chris made a bad experience turn into a great experience for myself and Cole. Now, he's been able to take away the right amount of obedience to plant himself fully into our family of 4 w/ 2 kids under the age of 6. I would not hesitate to send ANYONE w/ a shelter dog or any type of dog from any background to Chris and let her work her magic. It was well worth the time and effort.

The Siegel Family + Cole "Cool Doggie" Siegel

Hi,

Sam here. Part Golden Retriever and something else unknown. I spend every Wednesday at Under One Woof. Lots of friends, good times, plenty of play and I come home pooped which pleases my humans, Diane and Steve. Best place in town for a dog, just come by and ask me!

Chris (and Under One Woof) is my savior!  With 2 active dogs, I can't keep up, so they spend every Tuesday at daycare playing and running and just having a ball!  They come home happy and exhausted!  We love her!

Jane, Lily, and Gulliver

I did a puppy class 2 years ago with my wild child Jade (border collie). All I can say is she is wonderful now, your classes have made her into a well behaved member of our family. I still refer to your book from time to time, (sometimes she thinks she is the boss) and can't thank you enough for all your support during the class and the take home book. She no longer requires to be tied in the yard, and loves her independence! Thank you again for a wonderful class!

Crissy & Jade

Just to give you a little update. Yesterday and today we took the graduate on a long woods road walk.We allowed him to travel without a leash but with a small drag rope. Whenever he would get about 200' ahead of us, I would whistle and he stopped and turned each time and headed back or sat down and waited for us. On the return walk today, we removed the rope for the last 20 minutes and he still reacted positively to command. We consider this a huge milestone in his free spirited behavior pattern and thank YOU very much for all your help.

Ben & Liz Story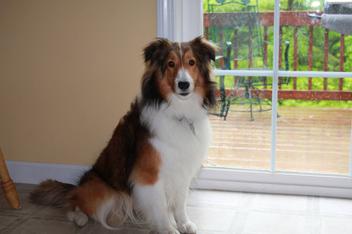 Greta and Shorty can't say enough wonderful things about Under One Woof.  They go there for classes and grooming and can hardly wait to get out of the car and visit.  Chris has always taken the time to get to know the dogs and make them feel at home.  Anytime I've had questions about behavior issues or just want to share a funny story, Chris is there to listen or answer an email.  The whole staff was a wonderful support when we recently lost a Golden to cancer.  You will never find a more dedicated staff to care for your dogs.

           Kay Anderson for

             Greta & Shorty

           Francestown, NH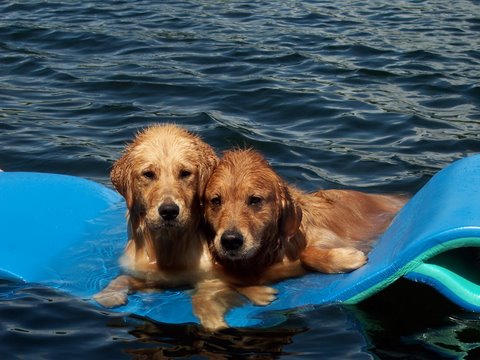 Thank you Ms. Kate for my fantastic first professional groom! Now my coat matches my aristocratic nature!

I feel fantastic! -

Willow Tree Bell

Linda & I were very much impressed with the way Chris and her staff treated us (and our babies: "Shequoia" -- mini American Eskimo . . . and "Radar" -- Papillon) . . . both 7 years old, for our first-time visit; and, of course, with the results of their expertise. Both dogs were very comfortable with the entire staff's handling of them. Thank you, Chris, Kady and all the others whose names we did not have the opportunity to get.

Richard & Linda Whiting

Rescue Dog Miss Audrey has thrived following the fantastic training classes, including a recall clinic and Dog About Town Classes. Chris and her staff are superb and encouraging, and offer great advice and guidance. Miss Audrey and I have learned so much, and always have fun. Also took in a neighbor's special needs dog for grooming, and we were thrilled with the individual, compasssionate attention he received. I like the holistic perspective and positive reinforcement techniques. Best place, best people around. Miss Audrey and I highly recommend it.

Karen Nadeau